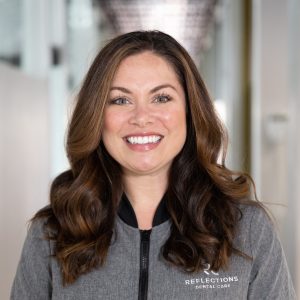 Betsy
Registered Dental Hygienist
Betsy graduated with honors from Oklahoma State University in 2010 with a degree in nutritional sciences. She then attended the University of Oklahoma Health Sciences Center for an additional two years, earning her degree in dental hygiene. Betsy was awarded Hu-Friedy's Golden Scaler Award for exemplary skills while treating patients. She is an active member in both the Oklahoma Dental Hygienists Association and the American Dental Hygienists Association. 
Betsy joined the team at Reflections Dental Care in 2013 and has been at RDC for the majority of her career. She is confident in the quality of care that RDC provides and loves building lasting relationships with her patients and co-workers. She prides herself in being gentle, yet thorough, in her work. She takes the time to listen to patients' needs, putting their comfort and dental concerns first. 
Outside of work, Betsy is happily married with two darling boys. As a family, they love to travel and spend time outdoors. Betsy is an avid OSU fan…go pokes!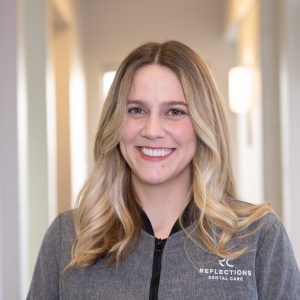 Annie
Registered Dental Hygienist
Annie joined the Reflections Dental Care team in 2018. Annie earned her Psychology degree in 2006 from the University of Oklahoma and then went on to earn her degree in Dental Hygiene at the OU Health Sciences Center. She received honors from the ODA President, was Class President, and won an Ishmael Scholarship for her original research, "The Role of the Dental Hygienist in Orofacial Myology." 
She has been married to her college sweetheart since 2011 and welcomed their first son, Magnus, during quarantine! They love to travel, eat great food, and snuggle with their two cats, Biddie Lu and Chloe. As a lifelong vegetarian, Annie loves to try new recipes and local restaurants.  
Annie has been in the dental field for many years. She has served in many roles including assisting, scheduling, office manager, and now hygienist. She started out assisting in her parents' dental office and became radiation certified at the age of 13!
She is grateful to be a part of Reflections Dental Care where she is surrounded by a committed and supportive team. What she enjoys most about being a hygienist is building relationships with her patients while making them as comfortable as possible. She believes that the power of what a hygienist does goes far beyond the technical part of their job.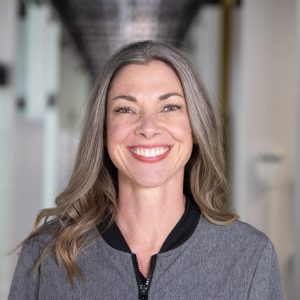 Stephanie
Registered Dental Hygienist
Outside of her dental visits as a child, Stephanie got her first exposure to dentistry while working in the front office for a local oral surgeon. There, she learned about dentistry as well as insurance and the daily operations of a dental office. Those lessons would prove invaluable in her future practice as she has had the opportunity to work in almost every position in the office at RDC including office cleaner, gardener, and resident toilet plunger. 
Stephanie attended the University of Oklahoma where she earned her Bachelor of Science in Dental Hygiene. She walked away with a degree in one hand and her husband, Lance (whom she met in the elevator), in the other. She later went back to work part time as a clinical instructor at OU for several years while serving as a dental hygienist at RDC. Stephanie's favorite demographic to serve are those who have had little to no access to dental care in their lives.   
Stephanie is an adventurer and a creative at heart. She grew up in a large family as one of 5 children (Yes, FIVE). Her parents were likely too tired to say no when she asked if she could travel to Europe by herself. Stephanie found herself on an adventure of a lifetime when at age 16, she hopped on a plane to Germany to be an exchange student. She had the opportunity to travel all over Europe and learn to speak German while living with 3 different host families over the span of a year. 
Stephanie loves to travel, cook, and enjoys outdoor adventure with her family. She enjoys boating, surfing, wakeboarding, snowboarding and biking with the occasional adrenaline-inducing white water rafting, ziplining, and rappelling. Her knee doctor has told her "no more running" and she is not sad about that. She also practices Bikram Yoga as a means to extend her career, as her profession demands that she work on people upside down most of the day.
After taking a break from practicing full-time dental hygiene to help raise their three VERY ACTIVE children, Stephanie came back to work at RDC in a more consistent capacity in 2020 at the 16th Street location. She really enjoys being able to walk to work.  
Her shining moment was when she FINALLY got her name put on the door!  She is still however waiting to talk to management about how to get her "larger than life" face off the exterior of the building.  
A fun fact about Stephanie: She was named The Limbo Queen in college where she put in many hours living up to that name.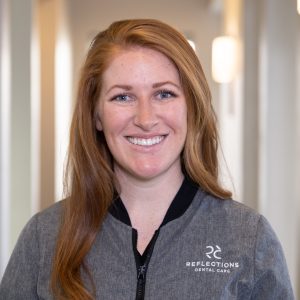 Megan
Registered Dental Hygienist
Megan joined the Reflections Dental Care team in 2021. Megan graduated in 2007 from Colorado Northwestern Community College in Rangely, CO with an Associates of Applied Science in Dental Hygiene where she was class president.
Her passion in patient care is periodontics, where she enjoys treating and educating her patients to turn their oral and systemic health around. She has been working as a hygienist full-time since 2007 and recently moved to Oklahoma in 2021.
In her free time, she enjoys traveling and hiking Colorado's fourteeners alongside her family and friends. In Oklahoma, she spends her time playing golf and is excited to explore the state. Megan sees her most important contribution at RDC as welcoming patients into her dental chair as a place of comfort for needed treatment. She looks forward to the opportunity of getting to know you.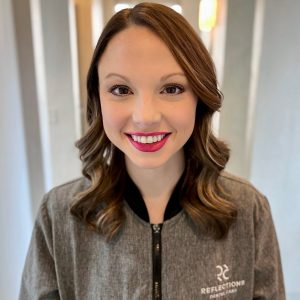 Natalia Migliaccio joined Reflections Dental Care in 2020. In 2017, She earned a Bachelor of Science in Dental Hygiene and a minor in Health and Exercise Science from The University of Oklahoma. She graduated top 5 in her class with special distinction and was elected membership to the Sigma Phi Alpha Dental Hygiene Honors Society.
In her free time, she enjoys painting, running, spending time with her friends/family and being outdoors with her dog, Happy.
She is passionate about educating and communicating with her patients as well as giving back to the community. She has volunteered at OKMOM (Oklahoma Mission of Mercy) for the past 6 years, providing care to those in need of dental treatment in the community.
Natalia sees her most important contribution at RDC by focusing on building genuine relationships with patients and team members. She enjoys getting to know her patients on a personal level in hopes of creating a trustworthy and comfortable environment. With Natalia, you will find that she has an upbeat personality and great sense of humor. She finds her job most fulfilling when her patients leave not only with a healthy mouth, but a brighter smile.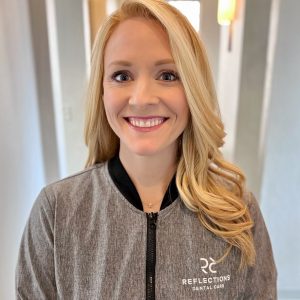 Lindsey has held numerous roles and gained a lot of valuable experience over her twelve-plus year career in the dental field. As a former insurance coordinator, treatment coordinator, front office team leader and currently – registered dental hygienist, she possesses a diverse understanding of how different practice roles and responsibilities interact with one another in support of clinical excellence.
Originally joining the RDC family in 2015, she departed four years later in pursuit of her lifelong dream: to become a dental hygienist. After earning her Bachelors of Science in Dental Hygiene from the University of Oklahoma, she rejoined our office as a valued member of the RDC hygiene team.
Lindsey and her husband Gregg have been married for thirteen years. Together they have been blessed with two active boys, and two spoiled fur babies. In her free time she enjoys spending time with family and friends, gardening, home remodeling, refinishing furniture and watching her boys sporting activities.
Lindsey is committed to providing high-quality compassionate care to all of her patients. She feels passionately about helping her patients achieve and maintain healthy, beautiful smiles. She looks forward to continuing to serve the patients of RDC for many years to come.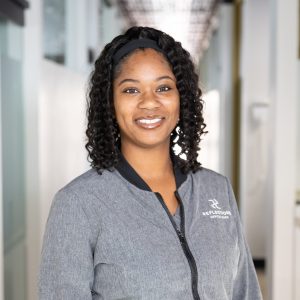 Ebony joined Reflections Dental Care in 2016 and has 10 years of dental assisting experience. 
She kicked off her career by graduating from Oklahoma Health Academy/Platt College in the Dental Assisting program. Ebony has a two-year-old daughter and also an older brother and younger sister. For fun, Ebony enjoys reading, shopping, traveling, and spending time with family and friends. She feels her most important contribution at RDC is placing patients in a comfortable state of mind and relieving their anxiety, which helps them get the treatment they need. Ebony also loves being able to provide encouragement and compliments for patients who have just had work completed. She loves getting to see lives changed on a daily basis as a result of the great dental work that happens at RDC.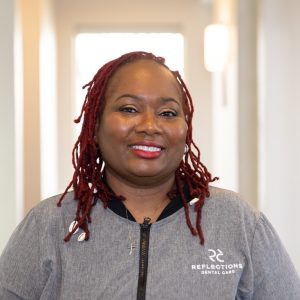 Veronica started her assisting career in the USAF. She brought over 20 years of experience to RDC when joining the team in 2012. Since then, she has been developing our lab to allow the fabrication of appliances in-house at Reflections Dental Care. She loves taking care of patients and making them feel comfortable, as well as being available for her team.
Veronica has 2 children, Tim and Desiree, and a parakeet named Dash. They love to laugh and have fun together. 
Fun fact: She is willing to do whatever is needed to make people laugh! And she's learning how to roller skate!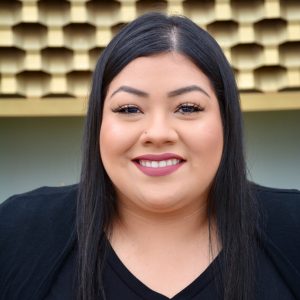 Rebeka joined Reflections Dental Care in 2021 and is the first to answer the phones, schedule appointments, and support the team with other tasks and projects. She believes her most important role at RDC is being the first point of contact with patients. She enjoys answering patients' questions and helping patients feel comfortable and heard. She also enjoys getting to know each individual patient and guiding them through their first appointment as well as making them feel welcomed. Rebeka was born and raised in Texas and moved to OKC in 2014. She is bilingual and has been in the dental field since 2017, kicking off her career initially as a dental assistant. After a year, she was offered a position at the front desk and decided to leap into that opportunity. Now, Rebeka has become more experienced and in love with the dental world. She knew she wanted to be in the dental industry since she was in the 3rd grade! If she isn't at work, you can find her listening to music while painting, or watching her favorite shows in her spare time. She has 2 beautiful children together with her spouse James. They love going to the movies, the park, or out to dinner on weekend nights and love planning cabin trips. Fun fact about Rebeka: She hangs up her acrylic paintings in her home as decor!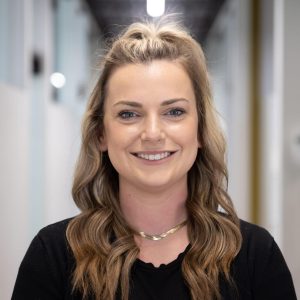 Lauren graduated from Custom Dental Assisting school in 2018. She first assisted in oral surgery before joining Reflections Dental Care in September of 2019. Lauren first joined the RDC team as a dental assistant, but has since transitioned to the front office as a Treatment Coordinator and the Front Office Team Leader. Lauren has always been passionate about taking care of others and believes that her most valuable contribution to Reflections Dental Care is being a team player. She loves helping out wherever she is needed to help ensure that patients receive the quality of care they deserve. Lauren is a dog mom to her Pomeranian, Luka, and English Mastiff, Zeus. When she is not at work, she enjoys spending time with her family and boyfriend, Caleb, watching sports (specifically the Oklahoma State Cowboys), traveling, and playing flag football on Sundays.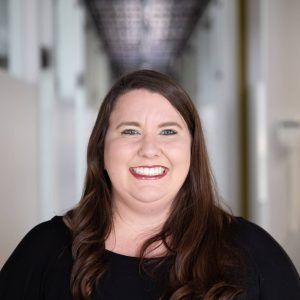 Kensie had worked in the medical world before coming to Reflections Dental Care and brings experience in business and office management as well as team project leadership. Kensie wears many hats at RDC and manages the behind the scene details that make it possible for our patients to have a smooth experience. She's excelled as office manager, HR manager, and will even pick up the phone and schedule a patient or two if necessary. In 2014, she married her husband, David. Together they have two children, a boy and a girl, born in 2015 and 2017. They love spending time with their kids as a family and considers being a mom to be her most treasured privilege in life. Kensie is a photographer and loves spending time with family and friends as well as traveling to the beach house to relax. She sees one of her most important contributions as being able to provide support for the team in the role of HR manager. She enjoys taking care of the needs of the team and helping them in any way she can. An interesting fact about Kensie: She is a photographer and takes individual and family portraits in her spare time. She also enjoys waterskiing and taking walks with her kids.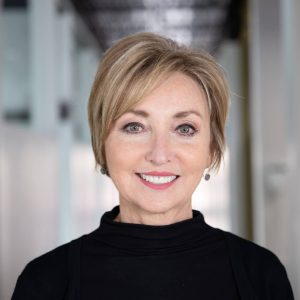 Charla
Patient Benefits Coordinator
Charla has over 43 years of experience in the world of dental care and joined the Reflections Dental Care team in 2012. She first got her start with a Dental Assisting Degree from Northern Community College. Charla is married to her wonderful husband, Steve and has four step children and one son of her own. Together they have five grandchildren and enjoy following their activities and spending time with them. Charla views exercise as a crucial part of her life. She and her husband enjoy snow skiing, water skiing, and hiking. She sees her experience as her most important contribution at Reflections Dental Care. Over the last 43 years, she has been witness to vast changes in how dental services are provided and believes she's never had a dull day working in this field. Fun fact about Charla: she used to mix music as a DJ working at private parties and nightclubs!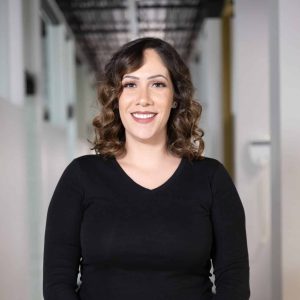 Michelle
Patient Benefits Coordinator
Michelle graduated from dental assisting school at Platt College in 2011 and has 10 years of experience ranging from the clinical side of dentistry to the business side. She joined the RDC family in February of 2021 and believes her most valuable contribution to the team is being able to adapt in every position to help take care of patients' needs. Although her passion is assisting providers during dental treatment, she is an asset to our front office team as she is well experienced with insurance. Michelle enjoys enhancing others and one of her biggest strengths is her attention to detail.
Michelle has a daughter and two dogs. During her personal time, she loves to visit her family in Lawton, OK and hike the Wichita Mountains.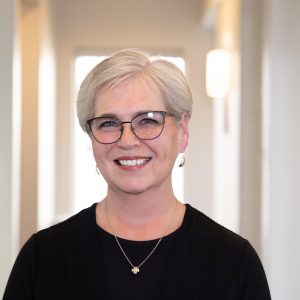 Becky joined Reflections Dental Care in 2017 and has over 37 years of experience in bookkeeping. She is our bookkeeper and overall numbers tracker, taking care of the team, budgets, receivables, payables and all the nitty gritty behind the scenes details that help RDC run and operate smoothly. Between the years of 2002-2016, Becky served as a missionary associate in Indonesia and Philadelphia while taking care of the books for each of the ministries. She loves spending time with her family and friends, especially with her nieces and nephews. Her passion is teaching a Sunday small group at her church each week and going out to do evangelism with Mission on Wheels. She also enjoys riding motorcycles, crocheting, and football. Becky has worked hard in her time here to serve as a bedrock for all things business and finance related. Fun fact about Becky: She loves to preach!